Sales Partnership
Interested in becoming our sales or business partner?



Contact us today!
Jinlin HK partnership wants to give you a space for building partnership cooperation in B2B sales and get some extra income

.

Partner with us in a win-win situation that expands your pocket, supports our B2B sales & helps you develop your future distributorship projects .

We operate webinar events frequently. If you are interested about being our business partner, you are very wecomed to attend our online events. Register as a member and get notifications of our upcoming events! Don't worry if you miss them, you can watch live playback on our

social media platforms .

Introduce us a potential customer and get rewarded for bringing quality sales leads online or offline for every successful sales.



1. COMMISSION ON PROFIT FOR EVERY SUCCESSFUL SALE
From one customer whether through offline or online channels, you can get three types of commissions:

1st Order:

5%

commission
2ndOrder:

3

%

commission

For the following orders thereafter, you can get a 1% commission through an after-sales customer service.
2. REWARD FOR DIGITAL MARKETING
You can choose the option of supporting us through digital marketing via
Facebook
,
LinkedIn
,
Twitter
, and
Instagram
.
Sign in into the website
& use the tool for promoting our products on the dashboard & track your commission. (check the pic below)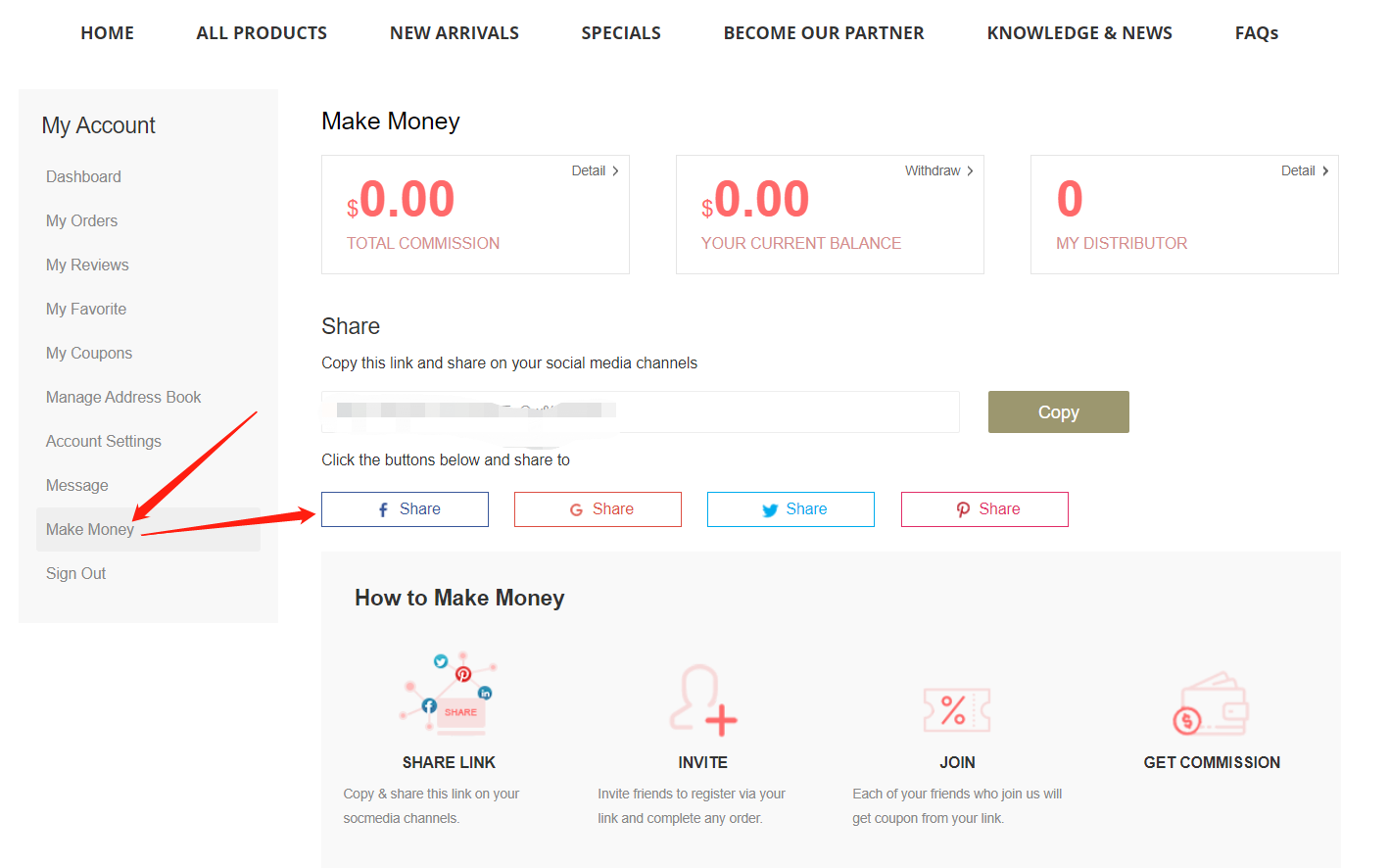 GENERAL FAQs
1. What shall I do if I want to start today?
Simply Contact us right now!
2. What is the main difference between a Sales Partner and Business Partner?
SALES PARTNER: a person who wants to develop its network of sales leads and customers (wholesalers/retailers) through the support of JINLIN HK
BUSINESS PARTNER : a person who wants to develop its own B2B business and e-commerce B2B/B2C business, or can refer quite a big customer to JINLIN HK for a further distributorship partnership.
PS: Every sales partner can develop into a successful business partner


3. How shall I get familiar with the products?

After the registration, try to get familiar with the company's
background and the product portfolio from our weekly livestreams available from our website & social media accounts.



Follow us on

social media platforms for regular updates. Use the content we upload for your marketing activities and get sales leads. Refer the sales leads to the company.
Instagram: @JinlinHK
Facebook: @JinlinHKSmoke
LinkedIn: Jinlin (HK) Smoking Accessories
SALES PARTNER FAQs
1. What information shall I get before I refer my quality sales lead to Jinlin HK?

Before referring to any quality sales lead, inquire the following from the customer:
A) Name of the country of the customer's business activities: for shipment and customs clearance reasons
B) Contact information
C) Nature of business: wholesaler, distributor, retailer, small shop, etc.
D) Type of product and quantity the customer is planning to order
2. How will I know that my sales leads have turned into a successful sale?

Since we try to make the cooperation fully transparent, we will offer you a couple of options to track our discussion with every sale lead you will have referred to us. We can create a group on either Whatsapp or Wechat to include you, your customer, and our salesperson. Another option is sending you screenshots of the conversation between the customer and our salesperson.

3. Do I need to go online to find quality sales leads?
The source of sales leads introduced to JINLIN HK entirely depends on your own decision. You can bring quality sales leads offline As well as online. However, if you choose to support our digital marketing channels via your own Facebook, LinkedIn, Twitter page, you can get rewarded and get more professional in e-commerce. Besides, you canuse social media to attract online followers and generate online sales

. Isn't it more exciting? :-)
4. When and how will I get paid?
Profit commissions from every successful sale will be paid within

five working days

after the customer's full payment . Based on your

preference, we will send the payment through bank transfers within China, Paypal, Alipay, or wechat.
5. Do I need to have any sales experience?
NO sales negotiation skills are required from your side. You are not expected to close the sales deal with your customer. Contact your potential customer involved in the smoking accessories industry, and introduce him the products. Once you feel that the customer is ready for a more detailed discussion, which requires a price negotiation, quickly pass us the contact & my sales colleague will do the rest of the job.
6. What shall I do when my customer is interested in other products than smoking accessories?

As a manufacturer and trading company, JINLIN HK can supply your customers with any products they need. Since Yiwu city is a cradle of all types of small commodities, our branch company can deal with this type of service.

7. Are there any tips for contacting a potential customer?
There are several ways how to find a customer.

A) Friends' referral: contact your friends who are involved in smoking accessories business or might have some contacts to introduce to you.
B) Market research: make a list of wholesalers, retailers, smoking shops in your country and contact them for a possible cooperation
C) Social media: create an account on at least one of the following: Facebook, Instagram, Twitter or Linkedin. Use any content from official Jinlin HK accounts for social media posting or website and promote the products. Join and follow groups in social media dealing with similar products and promote your products. Directly contact your followers or companies through social media and offer them your products.

8. What shall I know before I start?
Jinlin HK is a wholesaler, not a retailer, the company makes B2B sales only;
Jinlin HK is a manufacturer of smoking accessories, but also a trading company which can supply any other products;
Jinlin HK main market is USA/Canada.